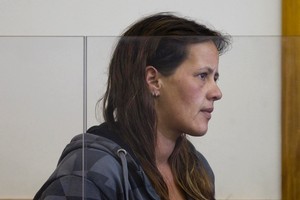 Mellissa Anderson in the dock during her first appearance at the Waitakere District Court. Photo / Brett Phibbs
A mother who attacked her daughter's alleged bully has pleaded guilty and has applied for diversion.
Mellissa May Anderson, 34, appeared in Waitakere District Court today charged with assault.
The Helensville mother slapped one of two 14-year-old girls thought to have punched, kicked and hit her daughter.
Summer Anderson, 13, was waiting for the bus outside Kaipara College on a Friday afternoon in November when two girls allegedly attacked her.
She was left bloodied and bruised and sought refuge in a nearby house and called her mother, who then allegedly pinned one of the two attackers to the ground in front of the police.
Police will give Anderson a set of conditions to carry out before she next appears in March. The case will be over if she completes the conditions.
Anderson declined to comment as she left court this morning with supporters.
She previously unsuccessfully sought name suppression in December.
The incident provoked an outpouring of support and criticism for fighting back against bullies.
Anderson went public with her story after a family member approached the media.
She has since said she was overwhelmed by the media attention, and wanted the spotlight to shift to bullying, not her.
"My biggest regret is that my intervention has detracted from the real issue at hand, which is that bullying is a bigger problem than people imagine,'' she said in a statement last month.

- APNZ