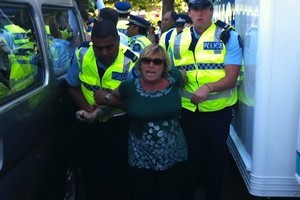 Protestors are preparing to march on Mayor Len Brown's office after labelling moves to evict Occupy Auckland campsites "piggish" and "bulls**t".
Two protesters were dragged away and arrested as Auckland Council warranted officers and police evicted the Occupy Auckland protest site at Aotea Square this morning.
Auckland Council said the eviction was needed because protestors were interfering with its ability to take bookings and plan for community events such as this year's Auckland Lantern Festival in Albert Park.
Veteran protestor John Minto, who was among the first to pitch tent in Aotea Square, said the eviction was "piggish" behaviour from Auckland Council.
He rejected an accusation the protestors were interfering with council events and public enjoyment of parks.
"That's just bulls**t. That's just lies - rubbish. They'd just prefer not to have banners and placards in parks.
"The Occupy movement has not interfered whatsoever with the rights of the public. It may have looked an eyesore from Len Brown's window."
Mr Minto insisted neither of the two people arrested had resisted police or council warranted officers.
The arrests were just "one of those things", he said.
""This has been a very successful movement - no matter how many people are arrested or how many tents are ripped down by zealous council officers."
Meanwhile, protestors told APNZ they were planning to occupy Auckland Mayor Len Brown's office this afternoon.
They said they would march to the office at 5pm.
Council staff, backed by 20 to 30 police, descended on Aotea Square and three other Occupy Auckland site this morning, issuing notices in a bid to rid the central city public spaces of the campers once and for all.
All but a couple of tents have now been removed down - but a handful of protesters have refused to allow their tents to be taken.
They were told by security staff contracted by Auckland Council that they would be issued further notices within 24 hours.
The occupiers have been in Aotea Square for 101 days and the council has been to court to win the legal right to evict the protesters who remain.
Police gathered in a nearby carpark about 8am and observed while council workers and staff from private security company Red Badge Security took down tents, waking some occupiers who were still in bed.
Individual occupiers were also asked for their names and were issued council notices saying they were in breach of various bylaws.
Some occupiers refused to leave the site.
"You guys don't understand how bad this is going to be for you," occupier Paul Hickman said to council staff.
Occupy head: We won't give up
Occupy Auckland spokesman Campbell Jones said protestors would carry on making their voice heard despite the "concerning" council and police action.
"The resolve is set to continue. Part of the Occupy movement is the tents but the part that's far more important is the message.
"We're saying financial violence has become pretty much invisible."
A council statement said the Occupy protestors were interfering with its ability to take bookings and plan for community events such as this year's Auckland Lantern Festival in Albert Park.
It said the movement had the right to protest but not to camp indefinitely on Council land.
"Auckland Council has restated its determination to respect and protect the right of citizens to free speech, but says it will not allow illegal camping in Auckland's public spaces, which its citizens want returned to them."
An Auckland Council spokesman said tents and other gear were being removed from camps at Aotea Square, Victoria Park, Albert Park and 360 Queen St.
Occupy Wall St began a global protest in New York last September and protesters had been camped out in Auckland since October.
- APNZ and Herald Online staff