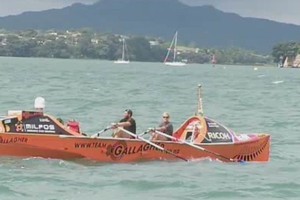 The first New Zealand rowing team to cross the Tasman has made it home.
Team Gallagher, which has Nigel Cherrie, James Blake and Andrew McCowan on board, had been at sea for 55 days.
The fourth member, Martin Berka was dropped off in the Bay of Islands to spend time with his fiancee.
The goal was to raise funds to build an artificial coral reef and help one of Borneo's remote communities.
Campaign director and Atlantic Ocean rower Rob Hamill was at Auckland's Viaduct Harbour at 4pm this afternoon to meet the team as it came into the harbour.
One East Coast Bays resident said before the crew arrived that seeing the transTasman rowers is quite a sight.
Dozens of people turned out to support the rowers as they arrived.