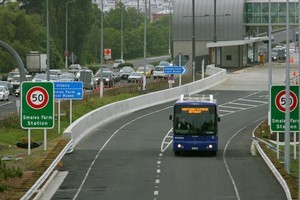 Auckland Transport says northern bus users could have 104 free parking spaces at Silverdale this year.
This is in addition to the 550 extra spaces opening at the Albany "park and ride" in July.
Agency spokeswoman Sharon Hunter said public comment would be sought on whether the Northern Express service should be extended to Silverdale to coincide with the opening of the "park and ride" and better local Hibiscus Coast services.
Charging for parking was not being considered.
Resource consents for the first stage of the Silverdale station have been approved by independent commissioners.
The consent is for earthworks on a 4.5ha rural site, discharge of stormwater from 1.2ha of tarseal, and a 500m link between Small Rd and Hibiscus Coast Highway and an intersection which allows for improved pedestrian safety and traffic signals.
The agency said consent was subject to a planning appeal but spaces could be ready in October.
Later in the year, it was planned to start on a second stage, which would increase the number of spaces to 500 and give a platform, shelter and drop-off zone.
On Monday, the agency said it was spending $5.5 million on doubling the free parking area at its Albany bus station, raising questions about the adequacy of "feeder" bus services from northern suburbs.
Ms Hunter said that demand for more feeder services was part of the agency's talks with Auckland Council on its annual funding plan.
Ideally, increased feeder services would start late this year or the first half of next year.Wayne Thompson