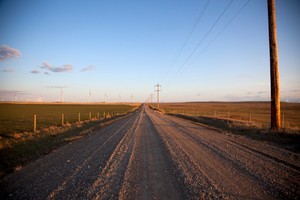 A 13-year-old died in Eastern Bay of Plenty after being thrown from the back of a ute. Photo / Thinkstock
Tearful children too upset to talk today lined a rural road in the Eastern Bay of Plenty where a local boy died after falling from the back of a ute.
Shane Hohepa, 13, was riding on the truck when it swerved, throwing him off, as it travelled along Galatea Rd in Te Teko.
He died on the road he had grown up on, within 3km of his family home.
Shane was dead by the time ambulance staff reached the scene, about 500m from the intersection of Galatea and Macdonald roads, soon after 1pm.
Senior Constable Stephen Allen said the boy was one of two people on the back of the white Mitsubishi ute when he fell onto the road. The driver and another person were in the cab.
The narrow rural road, running between large fields of crops, was quickly cordoned off by police for a scene examination.
Officers are investigating the incident and want to hear from anyone who saw it happen.
Shane leaves his parents, Jury and Amiria Hohepa, and brothers Hitaua, Dylan and Morehu.
Whanau and friends gathered at the family property during the afternoon.
One relative said Shane was due to start at Edgecumbe College after finishing at Edgecumbe Primary last year.
He was a "funny kid'', who could be cheeky to fellow children, but was ``just smart and cool''.
He was active and liked to play touch, rugby and ride horses, she said.
Facebook pages began filling with tributes yesterday afternoon, farewelling the young man "too young to be gone''.
Ruta Scott, who lives on Galatea Rd got home from work to see the normally busy street cordoned off. She walked along to see children with tears falling from their faces.
"It was cordoned off, and then I knew there must have been a fatality there, and a lot of children were on the side of the road that must have experienced it and seen it. They're quite close-knit.''
As she was standing with the local children, Shane's father came running towards the police guarding the edge of the cordon.
"He went up to police and said `I'm his father', and went towards the truck. The truck was quite a distance from where I was, and he ran.''
Mrs Scott stood with the local children who could barely speak because they were so upset, before asking the local kaumatua to come to the site.
She said the road was a main route for people heading into Murupara and Edgecumbe, and children often wandered up and down during the holidays to visit one another's houses.
One resident, who wishes to remain anonymous, said the Hohepas are a well-known and well-respected local family.
She said children often travelled on the open backs of trucks along the road, and she complained to police last year after seeing them standing in trailers being towed behind cars pretending to surf.
"[The death] is terribly, terribly sad. It's a little bit like an accident waiting to happen because you often see that sort of thing around here with the farmers, and the young kids on the back of the trucks. They think they're safe.
"On the trailers, you only have to go over a bump. Why do you gamble with a child's life?''
- APNZ