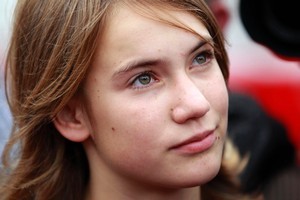 A 16-year-old girl set to become the youngest person to circumnavigate the world solo has torn down the Dutch flag from her boat and replaced it with a New Zealand one.
New Zealand-born Laura Dekker, who is about a fortnight away from achieving the feat, has replaced the tri-colours of Netherlands on her 38-foot yacht "Guppy", after disagreements over her education.
Laura is currently on the final leg of the journey and is expected to reach the Dutch Caribbean island of St Maarten on January 24, completing the journey she began from the island in August 2010.
Her lawyer Peter De Lange told Dutch newspaper De Volkskrant truancy officers issued her father a summons to appear late last year after a newspaper quoted her as saying she had not been giving her studies full attention.
Mr De Lange said the report was a misunderstanding, based on her saying she needed to concentrate on sailing while weather in the Atlantic was poor.
When her father refused to turn up, the truancy agency notified child protective services, infuriating the family.
"Who knows, maybe they'll be waiting for her with handcuffs at the finish line," Mr De Lange said.
A Dutch court originally blocked her voyage and only permitted her to set off after she bought a bigger, sturdier boat than the one she originally planned to use; fitted it with advanced navigation and radar equipment; enrolled in a special correspondence school; and took courses in first aid and coping with sleep deprivation.
Laura was born on her parents' yacht when it was docked in Whangarei, making her a New Zealand citizen.
Mr De Lange said Laura plans to return to school after her voyage, although she is considering relocating to New Zealand.
While Laura is aligning herself more to her birth country, her Australian manager Lyall Mercer complained in August she had "failed to find any support from New Zealand" and had then been unable to source a New Zealand flag to fly from Guppy.