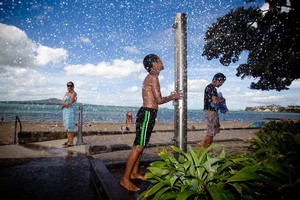 Oliver Manson, 9, takes advantage of a fine spell yesterday to have fun at Kohimarama Beach yesterday. Photo / Dean Purcell
Get out the sunblock, jandals and barbecue - summer is finally here and it looks as if it will stick around.
A large high is set to move over the country today, bringing with it clear skies and balmy temperatures, forecasters say.
Weather Watch chief analyst Philip Duncan said the high would cover most of the North Island.
"This is probably the first high we've had all summer which is focusing on the North Island rather than the South Island. So we'll finally be getting a taste of what the South Islanders have been enjoying all summer."
Since the beginning of summer, all the highs have been focused over the central or lower South Island, which created wet weather for the North Island and near-drought conditions for the south.
Mr Duncan called the latest high a "game-changer" because it focused on the North Island, protecting it from the rain, while leaving the South Island open to rain bands.
"It's perfect. It's really just exactly what we need - we need some drier, sunnier weather for the North Island and the South Island could do with a bit more changeable stuff to help the farmers with the drought ... hopefully things will work out for everyone."
MetService forecaster Ian Gall said the high would makes its way across the top of the South Island and bottom of the North Island today before moving northward tomorrow.
"Then there'll be quite good weather for a while ... we do like to see some summer occasionally."
Mr Gall said the settled weather would be sticking around for the rest of the week and it would last through to the end of this weekend.
Mr Duncan said there was about a 30 per cent chance of showers tomorrow in the Auckland region as the tail-end of an easterly weather system moves off the country.
There might also be a small chance of light rain in the Auckland, Waikato and Bay of Plenty areas on Thursday as that high moves off the country to make way for another, he said.
"We've got the next high rolling on in after the other one moves away. So there'll be a gap in between the two which could produce a higher risk of showers and wind and rain."
Mr Duncan said this week's weather would be "December-like" with mild temperatures and little risk of showers.
"We'll see temperatures bouncing back up a little bit and we'll see the sun come out, the winds die away - but it still won't be stinking hot."
Mr Duncan said he believed the settled and sunny weather would hang around for the rest of January.
"We're not talking about hot, hot days but I think it will definitely be an improvement on the first bit of January - summer's gradually getting going."
AUCKLAND'S FORECAST
Today
A high of 21C and mostly fine.
Tomorrow
A high of 21C and mostly fine with light winds.
Wednesday
A high of 23C and mostly fine with light winds and sea breezes.
Thursday
A high of 23C with cloudy periods and southwest winds.
Friday
A high of 23C and dry with southwesterlies.
Saturday
A high of 23C and dry with little wind.
Sunday
A high of 22C and dry.