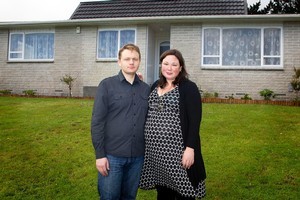 The first woman to fall foul of new real estate laws - found guilty of carrying out real estate agency work without a licence - has got off on appeal.
In a landmark case last July, Francisca Dorien Forster (known as Dorien), a motivational speaker, self-proclaimed millionaire and owner of Wellington-based company Home Buyers, was convicted under the Real Estate Agents Act, introducted in 2008. She was fined $7000.
Her company, which she runs with her daughter, Rineke Forster, was fined $13,000.
But Dorien Forster, 62, has won an appeal in the High Court and been discharged without conviction. Though Justice J Mallon said ignorance of the law was no excuse, the punishment of a conviction and fine was out of line with the seriousness of the offence. However, the conviction and penalty on Home Buyers was unaltered.
The judgment was a disappointment to Peter Bulmer, 31, and Vicki Bulmer, 29, who want Forster's actions publicised so other home buyers can be aware of what happened.
"I wish I'd never heard the name Dorien Forster," Bulmer said. Court documents show that the Bulmers first met Forster at an open home at a Lower Hutt house in May last year. It had been advertised as a private sale. Forster showed them around and told them she was not a real estate agent.
After weeks of looking, the couple returned to the Lower Hutt house and put in a $342,000 offer.
After some to-ing and fro-ing it was decided Bulmer would pay $336,000 to the owners of the house and a separate $6000 fee to Home Buyers.
This week, Peter Bulmer said that Forster had made the sale process "really stressful". The original judge said Home Buyers should have backed out of the transaction, and not tried to secure a fee, when the buyer indicated they wanted to deal direct with the sellers.
Forster was overseas and not able to respond to questions this week, but the court decision reveals that she felt her penalty was too harsh. She said she had suffered "embarrassing whispers and finger-pointing" at business meetings and had to line up at airport immigration "with other criminals" which was "embarrassing and time consuming".
The Real Estate Agents' Authority said four individuals had been charged under the 2008 law. Forster was the second to get off, and two more are awaiting court dates.
However, chief executive Dean Winter said the conviction of the company was the significant thing. "It sends a strong message to those involved with unlicensed real estate work."