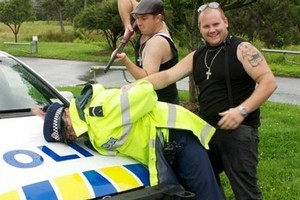 The Cannonball Street Rally. Photo / Supplied
Police chiefs didn't see anything funny about a uniformed officer posing over a patrol car with a gun to the head at a weekend fundraising event.
The image, which was emailed to the Herald and posted on social network sites, shows a police officer being pushed over the car with his hands held behind the back by one man, while another points a gun at the officer's head.
The photograph was taken at the Cannonball street rally held in Auckland on Saturday. The legal rally attracted nearly 300 entrants and had a theme this year of Heroes and Villains.
The picture appeared on an online forum where members debated whether the officer should be penalised, and what led to it being taken.
Police yesterday confirmed the picture was authentic and said it appeared to have been taken with the officer's co-operation.
A statement from Waitemata police district commander Superintendent William Searle said police considered the image to be staged.
"The images record a police officer's participation in a charity fundraising event, but are not appropriate.
"Until such time as the full circumstances are established we are not in a position to comment any further."
On the internet forum where the picture was published, users speculated on whether the picture was of a real officer or a hoax.
Several message writers said they thought it was unwise and others called for it to be removed.
The person who posted the picture seemed to have a change of heart after the comments and removed the image.