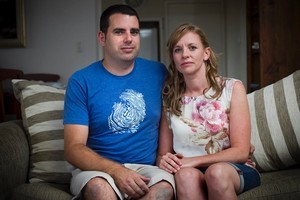 A rental car company which cancelled a booking a week before its vehicles were needed for a wedding has backed down.
But the couple it let down say they will take up one of countless other offers of help.
Metropolitan Rentals in Auckland came under fire after they cancelled a booking with North Shore man James Lavelle, who had hired two SUVs in November for his wedding this Friday.
But he was told last Friday - a week from the big day - that the company had to cancel his booking because the customer who already had the vehicles wanted an extension.
Yesterday, after a report in the Herald, the company contacted Mr Lavelle offering two vehicles for the wedding, free of charge.
But the couple politely refused, having been inundated with other offers.
"They called me to say they had the two cars, but I just sort of said 'no thanks'," Mr Lavelle said.
After yesterday's story about Mr Lavelle and his bride-to-be, Emma Ashworth, the Herald received dozens of calls and emails from rental car companies, car dealers, taxi companies and ordinary members of the public offering vehicles.
The couple have chosen to take up an offer from Giltrap Audi in Grey Lynn of two Q7 Audis free of charge.
Mr Lavelle said they were amazed at the number of people who wanted to help them on their wedding day.
"I'm pretty overwhelmed at everybody's generosity, I'm just blown away.
"Emma and I just feel so blessed that someone would do this. It's really cool."