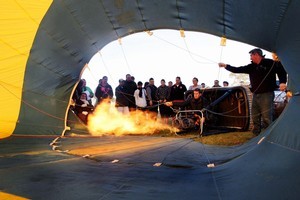 The company involved in Saturday's hot air ballooning disaster is devastated by the accident, says its owner.
"This tragedy will affect many families and our thoughts and sympathy lie with families and friends of passengers and pilot whose lives have been tragically ended," said Early Morning Balloons director Andrew Livingston.
Balloon pilot Lance Robert Hopping, had owned his own hot air balloon business, but was contracted to fly for Early Morning Balloons.
Mr Livingston and his wife, Sally, have operated the company since 1992, and started flying commercially from Carterton in 1997.
New Civil Aviation regulations covering certification and operations covering hot-air balloons came into effect in November.
All commercial adventure aviation businesses must meet strict safety standards and apply for an operating certificate granted by the Director of Civil Aviation.
The safety standards and practices are similar to those for small airlines.
Prime Minster John Key yesterday gave his condolences to the friends and family of those killed in the disaster.
Mr Key is on holiday in Hawaii, but said he had been briefed on the disaster.
Government agencies would be investigating and checking "to see what lessons can be learnt".