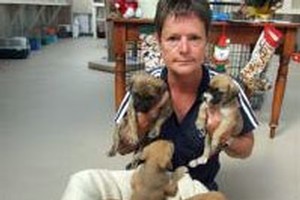 The SPCA is chasing possible leads after a litter of five-week-old puppies was callously dumped in a rubbish bin on a hot day and left to die.
The nine staffordshire bull terrier or mastiff-cross puppies were found near Lake Dunstan, in Central Otago, and were lucky to be discovered by a jetskier. If not found, they would have slowly died from the heat, dehydration or starvation.
"I have really struggled with this. I have found it very difficult to cope with," said SPCA inspector Helen Saunders. "To me, I cannot understand how anybody could have that on their conscience."
The owner is being sought, and the SPCA warns that a prosecution could follow with potential charges carrying maximum penalties of 12 months' imprisonment or a $50,000 fine.
"Nine puppies are a challenge - there's a lot of feeding involved, a lot of care involved, they are noisy, they are messy. And I think sometimes people feel they don't know what to do," Mrs Saunders said.
"But I'm afraid, as far as I'm concerned, there is absolutely no excuse for dumping nine puppies in a rubbish bin in 30C heat, to die. There are always options. It's what the SPCA is for. The other option is to take them all to your vet and have them humanely euthanased, and that is preferable to leaving them in a bin."
Publicity about the dumping "has thrown up a few possible leads as to where the puppies may have come from".
It was too early to discuss charges that could be laid - but the owner had an obligation to "provide for the physical health and behavioural needs" of their animals".
Despite their ordeal, the puppies were doing "extremely well". The challenge now is finding homes for them.
"We will continue to care for the litter until they are older - they are far too young yet to be going off to new homes. As soon as they are old enough, they will be vaccinated, they will be neutered, and microchipped and then they will be ready to go. Offers of homes would be wonderful."
Anyone interested in adopting one of the puppies can contact the Otago SPCA on 0800 682 467.

- APNZ