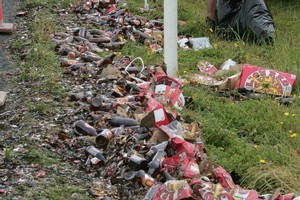 Waikato police are busy in the run up to New Year's Eve with a number of arrest for liquor ban breaches in the region's holiday hot spots last night.
The Thames Coromandel District Council has liquor bans in place in all of the peninsula's town in public places, including reserves, streets and beaches through until January 6.
District Operations Manager, Inspector John Kelly said police are concerned about young people not being supervised in the popular holiday destinations and the ease in which they are obtaining alcohol.
"Of the 20 odd arrests made overnight 13 of these were 17-years-old, the majority for breach of the liquor ban while one was arrested for possession of cannabis. We need to look at if we are doing the best for these young people by leaving them unsupervised and ask that parents reconsider the boundaries they have set."
A total fire ban is also in place on the peninsula through to February 8.
- NZHERALD STAFF