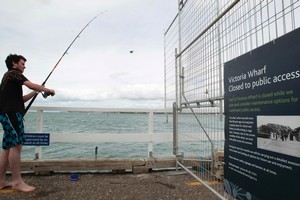 One of the most popular spots for fishing on the shores of the Waitemata Harbour is in such a poor state that most of it has been closed to the public.
Auckland Council does not want the usual holiday crowds using the uncovered Victoria Wharf at Devonport until it knows more about the structure's strength.
Yesterday, people were being turned back by wire-fencing sections padlocked together to thwart attempts to rip them apart with tow ropes.
Anglers were blocked from coveted positions near the deep water and swift tidal rips that make the wharf a favourite place to get a feed of snapper, squid and even whitebait.
Disappointed angler Jacob Davies, 22, was one of several trying to cast a line into a stiff northeasterly wind standing on the shin of the leg-shaped wharf. "The best part has been closed off at the peak of the fishing season."
Devonport sportsman Simon Gundry was baffled by the closure.
"At the most ideal time of the year to sit down there, the place is shut up because somebody has looked at it and said it's dangerous. It's been there for 80 years without a problem."
Four years ago at Christmas, vehicles were banned from parking on the wharf.
A survey revealed "significant deterioration of the basic concrete elements of the structure".
A February 2009 report to the old North Shore City Council said if repairs were not done, the wharf would fail and have to be removed.
For the Rugby World Cup, Auckland Council fitted wooden seats, bait boards and stainless-steel rails.
Devonport Takapuna Local Board chairman Chris Darby said the wharf was "a floating park above the water" and could not be lost to the public.
In addition, it served as the ferry terminal's emergency exit and fire-fighting system.
An early estimate for works was $13 million. Proposals for a major upgrade would be considered by the board in February.
VICTORIA WHARF
* 80 years old.
* 2007: Vehicles banned.
* 2011: People banned.
* 61% of concrete surface damaged.
* $13 million estimate to repair.