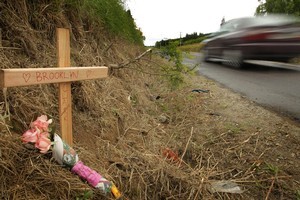 The man charged with the Christmas Day deaths of his teenaged cousins will be behind bars as their tangi is held in Tauranga tomorrow.
The 20-year-old Auckland man appeared in Tauranga District Court this morning, facing two counts of manslaughter over a car crash which claimed the lives of sisters Merepeka Morehu Clark, 14, and Brooklyn Morehu Clark, on Welcome Bay Rd at 4.20pm.
The man, who was driving the vehicle in which the sisters, sitting in the back seat, died, has been remanded in custody to re-appear next Wednesday.
All other details at today's brief hearing, attended by the man's parents and several other family members, were suppressed by the court.
His father told media outside the court he felt it was unfair his son would miss the girls' tangi.