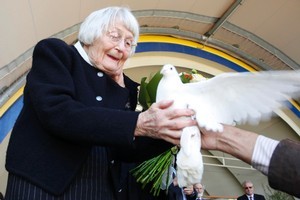 Police investigating the car crash that killed controversial financier Allan Hubbard have reached a decision - raising family fears that his elderly widow may be charged.
But the Hubbard family are likely to have to wait until the New Year to see what action police will take.
Mr Hubbard, 83, was in a car driven by his wife, Jean Hubbard, 82, when it collided with a ute driven by Nelson man Andy Earl about 5km north of Oamaru on September 2.
Mrs Hubbard stated she could not remember the crash, and her family are concerned how it will impact on her if she is found to have been at fault and charged.
"I don't know what would happen if she did have to go to trial. That would be awful," said Mrs Hubbard's daughter Lesley Limbe. "I wouldn't say there would be any point to it."
Inspector Mike Cook said police had a "very clear picture" of what occurred, but he refused to disclose what that was, or what charges, if any, would be laid.
The recommendation made by those investigating the crash was being reviewed by others within the police before it would be publicly released and the parties involved told, Mr Cook said.
Mr Earl said he was waiting like everyone else to find out what conclusion police had reached. He has previously stated that he had no memory of the crash, but did not think he was at fault.
Mrs Hubbard is back living in her Timaru home after being treated for injuries suffered in the crash, and is driving again.