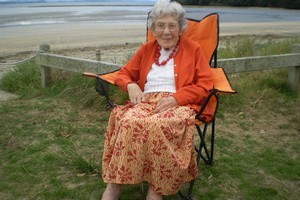 New Zealand's oldest immigrant has settled in and is looking forward to her upcoming 103rd birthday, says her son-in-law.
Former British resident Louise Sydes moved to New Zealand only last month to live with her daughter and son-in-law on the Whangaparaoa Peninsula north of Auckland after her rest home in Hawkhurst, Kent was demolished.
Nearly a month later, the centenarian was comfortable and loving the kiwi lifestyle and food, said her son-in-law Rex Reardon.
"She's pretty good, pretty damn good. She's settling down very well. She's quite mobile for a little old lady but she has to use a walker and things like that. She's been out in my wife's convertible sports car, and she loves going out in that. She's pretty good at that."
Ms Sydes was preparing for the double celebration of Christmas and her 103rd birthday on Boxing Day, but celebrations were going to be kept "low key", Mr Reardon said.
"She can get around with her walker to places. We talked about going out for a Christmas dinner somewhere, but really and truly, she only eats a small amount.
"We'll have a turkey and ham at home here, and we'll have family come around."
"We can go out in the car and that, but as far as going to anywhere special, she's been there and done that. Everywhere we go she's seen, and she's got an amazing memory."
Friends she has gathered over the course of her lifetime are missing her and sent nearly two dozen Christmas cards over.
The elderly migrant been keeping busy since arriving, and occasionally earned her keep by peeling potatoes in the kitchen, he said.
"She's pretty independent. We make her get in and out of the chair by herself so she's getting exercise without realising it."
In between passing medical check-ups with flying colours, Ms Sydes "loved" going to the local Manly hairdressers to have her hair coloured and blow-dried.
She enjoys a good cup of tea with a spoonful of manuka honey three to four times a day, which she previously said was the key to her longevity.
Wednesday night marked the elderly migrant's first kiwi BBQ since she arrived, and she often had a hankering for local fish, chicken and lamb, Mr Reardon said.
Ms Sydes declined to be interviewed, as she had faced dozens of interviews since news broke she was moving at such an age.
Briton Eric King-Turner was the last centenarian to move to New Zealand. Mr King-Turner settled in Nelson for a life of fly fishing at 102 years old.
He died in 2009.
- APNZ