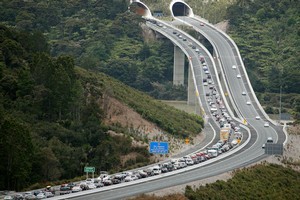 Many Kiwis are deluded about the long delays they are likely to face as 1.67 million people head away for their Christmas holidays, a new study shows.
GPS firm TomTom this morning revealed huge numbers of New Zealanders are planning to leave for their summer break tomorrow or on Christmas Eve.
Nearly all of them are planning to depart at around the same time in the early morning or late at night.
Despite that, about 70 per cent of those surveyed did not expect to be delayed be major traffic jams.
TomTom spokeswoman Valerie Cross said many motorists faced a "cold turkey dinner" after underestimating the traffic problems they are going to encounter.
They would need to be smart to avoid gridlock, keeping an eye on the news before setting out and planning lesser known routes in advance, she said.
"Most of the drivers we questioned stated that they will set off in the early morning or late at night to try and beat the traffic, but few realise that every other Christmas driver has the same plan."
The TomTom survey was conducted throughout New Zealand between 13 and 18 December, with over 1000 licensed drivers.
It showed 45 per cent of all New Zealanders are planning to go on holiday over Christmas, with 70 per cent expecting to travel for more than three hours.
Wellington drivers were the most pessimistic about traffic, with a higher than average belief they will be stuck in queues.
About 84 per cent of those people will be travelling by car and, in most cases, a man will be driving.
"I think this shows that Kiwi men still prefer to be behind the wheel," Ms Cross said.