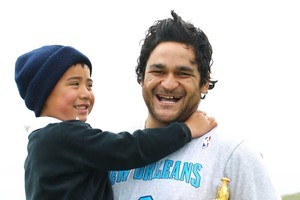 To acknowledge the support of the stadium of 4 million, the All Blacks are making a nationwide rugby tour with the Webb Ellis Cup to say "thank you New Zealand".
The trophy went to the Chatham Islands for the first stop on the pre-Christmas leg of the Great Rugby Road Trip which will resume in early February and run until April.
All Blacks halfback Piri Weepu - who rose to cult status after he steered the team to victory over Argentina in the quarter-finals - was given the job of escorting the cup to New Zealand's most remote community.
Many of the islands' 600 residents took part in celebrations, including a community pot luck dinner and photographs with the golden trophy.
Weepu said it was great to be able to share the World Cup victory with a special part of the country.
"Our support during the tournament came from all corners of New Zealand, including people here in the Chathams, so to be able to bring the cup to them is awesome," said Weepu, whose grandfather come from the remote islands.
The cup next goes to Kaitaia on February 7, then travels way south to finish in Oamaru on April 4.
Each day will feature a range of rugby-related activities for local schools, clubs and the community.
The Webb Ellis Cup, as well as other trophies such as the Bledisloe Cup, will be on public display between December 27 and January 12 in the New Zealand Rugby Museum in Palmerston North.