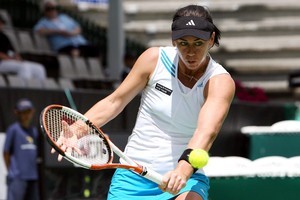 A couple of so-called "oldies" remain in contention for the men's and women's singles titles at the New Zealand tennis championships at Albany.
Former Kiwi No 1, Leanne Baker who at 31 is now coaching tennis in the United States, was able to beat one of the rising stars of junior tennis in New Zealand, 14-year-old Paige Hourigan from Wanganui in straight sets.
Just a few days ago, Hourigan was crowned the new national 18s champion, whereas Baker has won the singles title seven times and the doubles title 11 times and shouldn't be underrated in the semifinals against another top junior, this time Emily Fanning, in the semifinals today. Fanning overcame Kairangi Vano in straight sets in her quarter-final.
The old hand in the men's draw is another former Kiwi No 1, Dan King-Turner, 27, who had to fight hard to beat Wellington's unseeded US college player Finn Tearney in the quarters.
Tearney challenged King-Turner in the second set, holding off six match points and then two more in the tiebreak before the seventh seeded player eventually won the match 7-5, 7-6 (5).
King-Turner will play second seed Rubin Statham in the semis after Statham continued his quiet way through the draw being too solid for GD Jones, winning 6-2, 6-1.
Men's top seed Artem Sitak was efficient against sixth seed Adam Thompson, wrapping up the match for the loss of just two games. Sitak looks odds on to play Statham in the final.