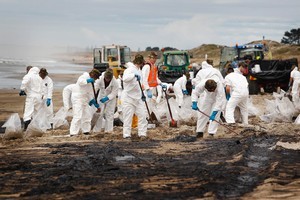 Seafood can now be taken from areas surrounding the stricken cargo ship Rena.
Tauranga Moana Iwi Customary Fisheries Trust has lifted the rahui or traditional ban on taking seafood in areas that may have been contaminated by oil from the vessel.
Cargo vessel Rena ran aground the Astrolabe Reef off the coast of Mt Maunganui on October 5, sparking major clean-up efforts after spilling containers and tonnes of oil into the ocean.
Trust chairman Penetaka Dickson said the clean-up efforts and the water quality had made it safe to take seafood again.
"The community clean-up has been magnificent on a number of levels and iwi would like to express admiration for the hard work and dedication by so many people. It would have been a lot worse without that collective community effort," he said.
Mr Dickson said while the rahui is no longer in place, people should exercise good judgement if they are catching fish or collecting shellfish.
"The advice we have been given is people should engage their senses and smell any seafood they collect and taste a little before deciding whether the kaimoana is safe to eat.
"If there is any hint of a hydrocarbon smell then they should not eat it at all. It just isn't worth the risk to anyone's health."

- APNZ