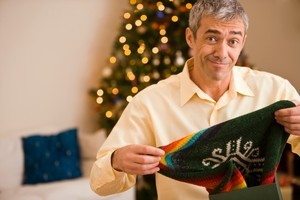 You may want to ask cousins and uncles for cash as a present this Christmas because apparently they're the worst at buying gifts.
A third of Kiwis got unwanted gifts last year - and many say they would prefer a voucher, a "practical" gift or a donation to a charity.
The survey of 1000 people by Unicef gives an insight into what New Zealanders really want for Christmas.
The biggest shopping worries included finding the right gifts, costs and overcrowded shops, while about a third said it was difficult to find the perfect present for their partner.
But if you're expecting to get gifts from colleagues, your cousins or uncles then you might have cause to worry - 38 per cent and 17 per cent of New Zealanders respectively said they were the most likely to give bad gifts.
A third of Kiwis said they received unwanted gifts, and many rewrapped and offloaded them on someone else.
Unicef said it could help end the circle of unwanted gifts with its "Say No to Naff" and "Inspired Gift" ideas.
The children's charity's online marketing manager, Richard Boyd, said those who bought the Inspired Gift had the chance to help children and their families in developing countries.
"[It] takes the hassle out of Christmas shopping and means your present definitely won't end up unloved."
Unicef NZ Ambassador Jonah Lomu also lent his support to the "Say No to Naff" campaign, saying it was a chance to change kids' lives in more than 60 countries around the world.
"That's the kind of gift I think all of us would want to receive under the Christmas tree," the ex-All Black said.
Who is the worst gift-giver in your life? What's the most lame Christmas present you've received?