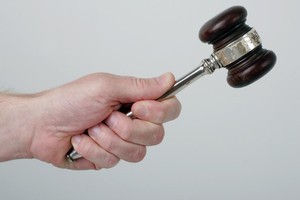 A high-profile Auckland barrister is fighting to keep his identity secret as he battles disciplinary charges.
The lawyer was originally denied name suppression by the Lawyers and Conveyancers Tribunal set to hear allegations against him in a two-day hearing earlier this month.
It didn't begin and is now unlikely to get under way until February. But after inquiries from the Herald the lawyer obtained an interim name suppression order at the High Court at Auckland, banning publication of his name and details of his case.
That suppression order lapsed at 4pm yesterday but the lawyer has now filed an application with the Court of Appeal to continue to keep his name secret.
A hearing on Monday morning will consider whether to extend the suppression order.
The lawyer argued he had been involved in many high-profile and significant cases and strenuously denied the allegations.
The lawyer was concerned about the effect publication would have on his reputation, the people he worked with and close relatives.
Justice Kit Toogood, in a decision released this week, said he was not persuaded the lawyer's concerns outweighed the public interest in open justice.
"I consider the proposition that the plaintiff, his professional colleagues and members of his family will suffer irreparable harm from publication of the allegations and the proceedings in this court and before the Tribunal to be exaggerated, " Justice Toogood said.
The judge said the lawyers' claim of a high profile did not entitle him to be treated any differently from a junior practitioner with no public profile.