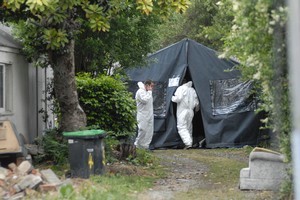 Police have been digging in the backyard of a dilapidated house where Christchurch teenager Hayden Miles was last seen alive as they continue the search for his body.
Police also searched another cemetery today after unearthing human remains at Ruru Lawn Cemetery in nearby Bromley on Tuesday.
They have not yet confirmed whether the remains belonged to the missing 16-year-old.
Hayden is believed to have been murdered after disappearing in August.
Three people have been charged in connection with the case.
A police forensic team began searching Memorial Park Cemetery, 400m away from Ruru Lawn Cemetery, and in the backyard of 612 Cashel St in nearby Linwood today.
Neighbours said they saw small items being placed in buckets at the property and taken away.
Police tents have been put up in both cemeteries and two hearses were seen leaving the graveyards.
Private security guards refused entry to Memorial Park Cemetery today.
A police spokesman declined to comment on any post-mortem examination results on the remains recovered so far.
The Miles family was not speaking publicly today but are expected to make a public statement through police when the formal identification process is complete.
Hayden's mother mum Jacqui posted on a Hayden Facebook tribute page: "i pray my boy has peace soon. iv missed u soo much and just want u bk with us. love u hayden. always have and always will with all my heart and soul. yr mum".
Hayden, then aged 15, was last seen at the rundown Cashel St property where police found traces of his blood.
The former tinny-house was at the centre of the investigation for 10 days, with its tenants being relocated by police while the forensic probe took place.
They moved back in on Wednesday amid fears of vigilante arson attacks.
A 27-year-old man appeared in court on Monday charged with Hayden's murder and was granted interim name suppression.
An 18-year-old woman, granted name suppression, is accused of being an accessory after the fact, while a 35-year-old man is charged with robbing Hayden of a cask of wine on the day he went missing.
All three will reappear in court on December 22.
Hayden last spoke to his mother from an unknown person's cellphone in the Linwood area before going to a friend's house on Cashel St on August 22. That was the last time he was heard from.
- APNZ