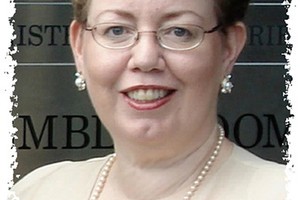 Bethli Wainwright graduated with her doctorate from AUT University yesterday, 354 days after she died.
She received a liver transplant in 2000 for a chronic condition and spent the last 10 years of her life doing research that would create a better understanding of the experience of transplant recipients.
As she battled ill health, Dr Wainwright surveyed a third of all adult recipients of liver transplants in New Zealand - a study that was unprecedented for being carried out by someone who had lived through it herself.
But she died on Christmas Day last year, leaving behind a memory stick filled with the results of her research and 35,000 words.
"It was all she had thought about," said Dr Wainwright's mother, Robin.
"The computer went with her to hospital. She was still going to work till the day she died."
Her supervisor at AUT, Professor Marilyn Waring, took the research and structured it into a thesis.
"She had completed a massive survey. It was an amazing accumulation of data and all of the analysis was completed," Dr Waring said.
"It was ground-breaking work and the world had to see it."
There were some uncertainties around how to submit a doctorate posthumously - AUT had never experienced it and had no policy - but the work was eventually published online on November 14.
Yesterday, the university awarded Dr Wainwright her PhD, which was received by her family supported by her colleagues.
"After all the bad times she's been through - and good times too, of course - this was really good to have. It's closure to some extent and it's her legacy, which will go on for many people," Robin Wainwright said.
Dr Wainwright was born without any apparent health issues, but at 8 she was diagnosed with Wilson's disease, a genetic malfunction that destroyed her liver.
After a transplant at 33, she realised the experience of transplant recipients was poorly understood and she began research to improve the service future patients would receive.
* Dr Wainwright's thesis is available at: http://hdl.handle.net/10292/2536