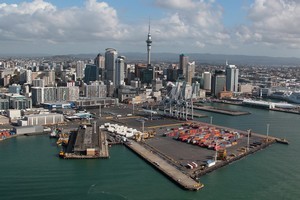 Unionists are accusing Ports of Auckland of trying to wreck workers' family Christmas celebrations with "intimidating" letters threatening to contract out their work.
The company denied trying to browbeat its staff, 327 of whom held their third strike at the weekend and were earlier locked out for two days, saying it simply wanted to be truthful in outlining potential work practices.
But the Maritime Union said the company's management had wrecked any chances of an early settlement of a dispute that has already disrupted the handling of 10 ships at an estimated cost to the Auckland Council-owned port of about $2 million.
"These families, right on Christmas, are getting these things saying their husbands and fathers will be redundant - it's an attack on the families," said union branch and national president Garry Parsloe.
Company chief executive Tony Gibson confirmed an offer to not contract out any more work or make staff redundant during the term of any new collective employment agreement had been withdrawn.
That followed the union's refusal to collaborate in a "continuous improvement" project needed to make Auckland's waterfront competitive with rivals such Tauranga's port.
Mr Gibson said the loss of about 12 per cent of the port's container business, worth about $2 million annually, to Tauranga in a decision last week by Danish shipping giant Maersk, also meant possible redundancies.
"My clear message to the union from the outset is that you either change with us or change happens around you, and we would prefer they were at the table," he told the Herald. "We don't write intimidatory letters to our staff and we never will - it's all about being honest and transparent."
In one of the latest letters sent to Mr Parsloe and workers, Mr Gibson said the company intended to review the desirability of contracting out "some or all of its container terminal operations and support services to third-party contractors." That was in addition to possible redundancies from the Maersk decision.
Mr Parsloe said he had set time aside for another attempt to resolve the dispute on Thursday and Friday this week, but was unable to lift notices of two more strikes before and on Christmas Day while the company was upsetting members so much.