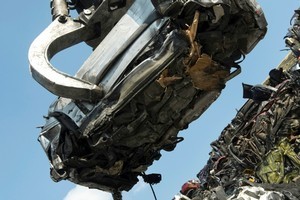 An Otago teenager who planned to put a turbocharger in his beloved car while he waited to get his licence back will have to find a new hobby after a court ordered it be crushed.
Karn Clarrie Forrest, 18, appeared in Balclutha District Court, sitting in Gore, today on two driving charges.
In what is believed to be a first, the court ordered the destruction of the vehicle under new boy-racer legislation.
Forrest was charged with driving while disqualified and driving a vehicle with a sustained loss of traction on State Highway 1 north of Milton on September 29.
The court was told Forrest was seen doing burnouts at an intersection.
He was convicted on both charges, sentenced to 150 hours of community work and was disqualified from diving for 13 months - from August 13 next year when his current disqualification ends.
Forrest's Facebook page contains numerous references to his love of cars and burnouts.
"Currently got no license some f*** c*** bk home narkd me in 4 doin skidz so got done (for) loss of traction 6 months, bt thts alg coz now i cn turb me baby (sic).
"Wel about me um i love me carz an burnouts hah, muzik an pissn up wid me m8z bk home.''
Prosecutor Sergeant Penny Stratford said that as it was Forrest's third conviction for driving with a sustained loss of traction and under section 129A of the Sentencing Act - which was amended two years ago - his car could be confiscated and destroyed.
The Land Transport (Enforcement Powers) Amendment Act and the Sentencing (Vehicle Confiscation) Amendment Act - legislation specifically targeting street racers - came into force in December 2009.
The "three strikes'' laws empower police to charge drivers and impound their vehicles for an "unnecessary exhibition of speed'' or "sustained loss of traction'', allowing vehicles to be seized and destroyed if a driver commits street-racing offences three times.
Representing himself, Forrest said he had sold the car but Ms Stratford said the vehicle registration remained in his name.
Judge Stephen O'Driscoll ordered the car confiscated and destroyed under the Sentencing Act.
He said he believed Forrest was likely to be the first in New Zealand to have his vehicle destroyed under the legislation.
Outgoing police minister Judith Collins, dubbed ``Crusher Collins'' after supporting the Bill through Parliament, backed the judgement today.
She said the decision sent a message to the 86 people currently sitting on two charges.
"The image of this car being crushed will send them a clear signal. If they don't get the message, then that's right, they could be next.
"It is a bit ironic, but we did say it would take a wee while for someone to be stupid enough to put their hand up to say `please crush my car', but clearly someone has,'' Ms Collins told APNZ.
She previously suggested that the rights to push the crusher button on the first boy-racer car be auctioned off for charity, but today said she was not sure if it could happen.
But not everyone believes the new measures will deter boy racers.
Clive Matthew-Wilson, road safety campaigner and editor of dogandlemon.com, said Forrest would now be seen as a hero by his mates.
"You're basically wasting your time trying to explain to young hoons that they're likely to harm themselves or others: the part of the male brain that links cause and effect doesn't fully develop until the early twenties. That's why young males often do silly things without thinking of the consequences.
"If the Government continues to crush a lot of boy racer cars, the boy racers will simply buy a cheap second car, one they can afford to lose when the police seize it.''
Mr Matthew-Wilson said the legislation was mainly there to make politicians look tough on crime and he doubted it would make the slightest bit of difference to the average boy racer.