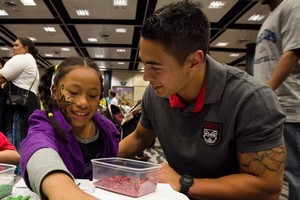 Teenager Joel Tible had a Christmas wish come true when he met some of his sporting heroes at a SkyCity Christmas party - but he has one more wish for Santa.
The Gisborne 16-year-old was one of about 200 sick children and their families who have celebrated the festive season with the Warriors league players, Breakers basketballers and Blues rugby players at the annual Kidz First Community Christmas party.
All of the children require long- term medical care.
In September, Joel was playing rugby when a scrum collapsed and landed on his neck, leaving him wheelchair-bound.
Since then, he has stayed in Auckland to receive medical care, and has had two operations on his neck.
At yesterday's party the sports fan met some of his heroes, including Warriors Micheal Luck and Shaun Johnson - "He's the man".
But Joel has one more long-term wish.
"I want to be playing again and to walk again - hopefully to play for the All Blacks," he said.
Mayor Len Brown got the crowd singing Away in a Manger, and special guests Wendy Petrie and Clifford the Big Red Dog also attended.
But the biggest stars of the show were Santa Claus and Mrs Claus, who joined the party at 3pm to meet the children and hand out goodies.
The party was a great chance to meet other children and their families, said Susan and Greg Orr, who brought daughter Samantha.
The 17-month-old has hypotonia, which causes a weakness of the muscles in her legs and other developmental problems.
"I was telling her she was going to see Santa. I think it's really great - it's great to get out and for the children to get together," said Mrs Orr.
South Auckland Health Foundation's Pam Tregonning said the "fantastic" event gave children a special Christmas.
"This party is exactly what these kids and their families need - loads of fun, lots of treats and a little bit of Christmas magic," she said.
- APNZ