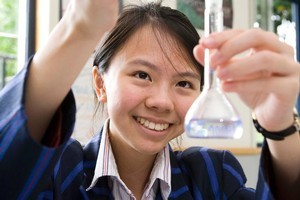 Top science student Nina Huang's hunt for links between short-sightedness and intense concentration has won a trip to Europe.
Nina, a Year 13 student at Diocesan School for Girls, won the top prize at the Royal Society's national secondary schools science awards, sponsored by Genesis Energy.
Short-sighted herself, 17-year-old Nina, of Epsom in Auckland, said yesterday she had always wondered if the condition was related to prolonged concentration.
"I get sore eyes after I do a task. I wanted to see if I could find a correlation between this and short-sightedness.
"If we can isolate external reasons, such as prolonged periods of concentration, for the onset of short-sightedness in young people, it might help researchers identify other causes, such as genetics, environmental conditions and signalling pathways to the brain - and then treat the condition."
Short-sightedness - myopia - is a common condition caused by the lengthening of the eye, resulting in images not being focused crisply on the retina. The underlying condition is not treated, although myopia is generally easily corrected by spectacles or contact lenses. Refractive surgery is also available.
In a study supervised by Auckland University's optometry department, Nina photographed and compared the eyes of 46 young people in two situations.
She found that when they performed cognitive tasks, such as solving maths problems, the eyes of pupils narrowed.
During non-cognitive tasks, such as reading a simple sentence, the pupils widened. The results were too scattered to be conclusive, Nina said, but they indicated future experiments, such as MRI brain scans and filming to obtain more-accurate pupil reactions, could answer her research question.
She hopes to refine her "Eye Think" research and present it next September at the European Union Young Scientist competition - to which she has won a free trip, in addition to a $7000 scholarship, from the Royal Society.
Nina, who has always been fascinated by how the human body works, intends to study biomedical sciences at Auckland University next year and eventually wants to become a researcher in genetic and molecular biology.
The Royal Society's "Realise the Dream" awards recognise the finest examples of science research and technology development undertaken by New Zealand secondary school students.