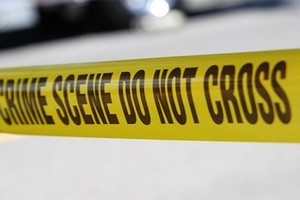 Wellington police are investigating a second assault in the city this weekend after a man was knocked unconscious near a strip club in Courtenay Place this morning.
Detective Senior Sergeant Dave Thornton said the man hit the ground after being struck in the head near Mermaids Bar about 4am.
He was taken to Wellington Hospital but had regained consciousness and been discharged.
The man, described as an African male who was wearing a long-sleeved white top with blue vertical stripes, black jeans and red canvas shoes, was seen approaching members of the public in an aggressive manner, Mr Thornton said.
"He was then seen involved with a group of three people, two males and one female, all of Pacific descent,'' he said.
"One of the group has then struck the victim in the head causing him to fall to the ground and lose consciousness.''
The two Pacific Island men were described as being in their early 20s, one wearing a dark sweatshirt and a black cap and the other a light-coloured sweatshirt. The female was wearing a floral dress and had black shoulder-length hair, tied in a pony tail.
Early yesterday morning, a man understood to be a Radio New Zealand journalist on his way home from working an overnight shift was assaulted in Boulcott Street.
The man, in his 40s, underwent surgery yesterday to relieve pressure on his brain and remains in Wellington Hospital's intensive care unit.
Detective Senior Sergeant Scott Miller said the man had left work in The Terrace at 5.30am and walked through Gilmer Terrace to Boulcott Street.
"The victim got halfway down Boulcott Street outside the Baptist Church where there appears an altercation has taken place,'' Mr Miller said.
RNZ communications manager John Barr said staff in the Wellington newsroom were subdued following the attack, which happened in broad daylight in a public place.
"We take seriously the safety and security of all of our staff, particularly those who are working overnight shifts,'' he said.
The man was wearing was wearing a grey, long-sleeved, striped shirt, faded blue jeans, a grey cotton jacket and carrying a black adidas backpack, Mr Miller said.
Police wanted to hear from anyone who saw either incident.
Yesterday's assault was the second tragedy for RNZ in as many months - last month, production secretary Carol Louise Davidson, 63, and her new husband, Christopher Mark Bishop, 58, were killed when they lost control of their motorbike while on honeymoon in Nepal.

- APNZ