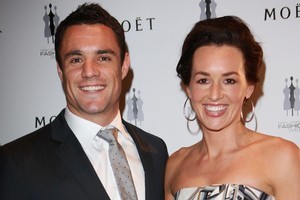 The rumour-mill is in overdrive with speculation the nuptials between sporting royalty - All Black Dan Carter and former Black Sticks striker Honor Dillon - are due to take place in Marlborough this week.
The pair, who met through university friends and have been together for nine years, got engaged in October last year but the location of their wedding has remained a secret, until now.
They are understood to be tying the knot on Friday and local media reported today that many believe it will take place at Lake Timara Lodge, a secluded, luxury 240ha estate.
The property includes an English-style park, perfume garden, daffodil lawn, and an extensive rose garden featuring more than 350 roses, according to its website.
A lodge staff member today refused to confirm the rumour, saying "I can't talk about things like that''.
A Blenheim florist said Dillon's aunt and uncle would be doing the flower arrangements and said the town was buzzing with excitement.
"Everybody's sort of talking and guessing. It's a big thing for Blenheim,'' she said.
However, she had not sighted the couple in town -"I think they're very private people''.
An application had been approved to close the roads surrounding Timara Lodge for a private function from 2pm on Friday until 1am on Saturday and 9am-10pm on Saturday.
A staff member at Marlborough Taxis said they had a number of large bookings for Friday - none of them connected to the Carter wedding.
"All of our bookings are for wineries and Christmas things.''
Several of Dillon's family live in the Marlborough region and the manager of Dolce Bar and Restaurant confirmed Dillon's aunt had been in for a cup of coffee but she had not seen the engaged couple.
Last month Carter marked his final days of singledom with night of partying and bar-hopping during his stag do in Queenstown.
Bar staff confirmed he and a group of about six friends were relaxed and in good spirits during the evening, and were still out at 8am, said one resident.
The resort town has special significance for the couple, who got engaged there.
- APNZ