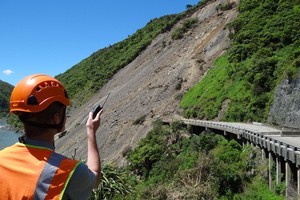 Reopening the Manawatu Gorge road is now expected to cost $10 million and take at least until the end of January.
NZ Transport Agency state highways manager David McGonigal said work had begun on benching the slip - now estimated at 200,000 cubic metres - from the top.
Debris would then be trucked away and used as a base for other projects. The amount to be removed was estimated at 20,000 truckloads.
So far, the agency had spent about $5 million on the gorge and $2 million fixing local roads.
Mr McGonigal said staff were working in tough conditions.
"This is one of the most complex slips to occur in the gorge and certainly one of the most complex in New Zealand," he said.
Journalists were given access to the top of the slip site, nicknamed "Base Camp" by work crews, last week.
From there crews had made a track through bush to the road to transport heavy machinery to the site.
A yellow super-reach digger, nicknamed "Scoop", was anchored by steel cable to "Smoky", an orange digger further up the steep hill.
That in turn was anchored around the base of a tawa tree, estimated to be more than 100 years old.
- APN