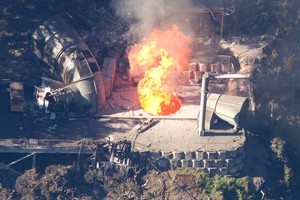 A British miner with 35 years experience told his wife "that mine is going to go" before leaving his job at the Pike River coal mine.
Albert Houlden, a former lead hand at mine contractors McConnell Dowell, is giving evidence to the Royal Commission of Inquiry into the Pike River disaster.
He left the mine in April last year to take a job in Papua New Guinea.
Before he left, he told his wife, "that mine is going to go".
When his old job was offered to him on his return, his lingering fears about the mine led him to take a job with rival company Solid Energy instead.
"I just didn't feel safe.
"As much as a liked working at McConnell Dowell, I hated working at Pike."
Poor communication between those working inside Pike River was a danger, Mr Houlden told the inquiry.
In one case, he found gas levels spiked "off the scale" within three hours of his team starting drillling.
He evacuated all his workers before re-entering the mine with a deputy to find what was causing the problem.
It was revealed a team elsewhere in the mine had released a valve that was pumping raw methane and water into the atmosphere without consulting him.
Another incident saw his team's ventilation shut off without warning, leaving them breathing in high levels of carbon monoxide.
"I couldn't get my head around why they weren't informing the company or us on shift. Why they weren't warning us. It was if it was carte blanche and they could do what they wanted.
"It was as if everybody was their own independent unit."
Mr Houlden said the lack of experience in the workforce at Pike River was also a major concern.
He said young men at the mine were getting paid "a lot of money for doing very little" while the mine was lagging behind its production targets.
When production bonuses were introduced, their work rate increased to a speed beyond what they could handle, he said.
"They were going 200 miles and hour but their education was still no better.
"They were going from dawdling about standing about... to come on, let's get this done. I don't think they could deal with the production speed. That's the difference you found up there. It was a crying shame because there were a lot of good boys up there."