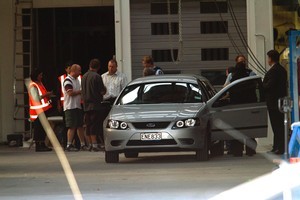 Horrified yacht rigging company owners are puzzled how worker Tony White was killed after falling into machinery.
Hall Spars & Rigging president Eric Hall told the Herald on Sunday from Rhode Island in the US his colleagues were devastated over the death of the 44-year-old from Red Beach, north of Auckland.
"The news hit me very personally because I knew him very well," Hall said. "I had visited New Zealand twice this year, in May and during the [Rugby] World Cup.
"I met Tony and we had a nice chat about how we were both on weight-loss programmes.
"He was very personable. He had a quick smile. I know he was very popular," he said.
The company built carbon fibre yacht masts and booms.
White was single and had no children. Originally from Gisborne, he loved kayak fishing and motorcycles and was passionate about his work, which included making masts for America's Cup yachts.
His mother Lorna visited the site on Friday evening and was being comforted by his friends and colleagues.
White fell into a 43m-long mast-making machine just after 3pm on Friday. He was on his own and a colleague found him and alerted the emergency services. St John Ambulance staff could not resuscitate him and he died at the scene.
"We can't put it together, it doesn't make sense," Hall said. "What we do know is that we can't ever do enough for plant safety.
"We have three plants in New Zealand, Holland and in the US. We have a tremendously good safety record.
"The same machinery has been used in all three plants and we have been doing this for over 20 years.
"We are looking at what we can do. Maybe putting automatic stops in. We will co-operate fully with the investigation," he said.
The company's New Zealand director Gary Hassall said White had been with the company for 6 years.
He said the machine had been used in the US for 15 years and in New Zealand for four years.
"It is the first accident we have had and it is a horrible one," Hassall said.
"We are all a bit lost as to how it happened.
"We don't know if he fell, tripped, was dragged or what," he said.