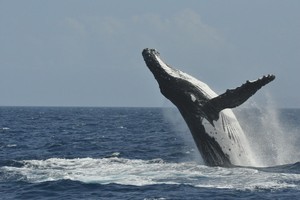 A humpback whale and her calf treated a boatload of tourists to a spectacular display during a rare visit to the Hauraki Gulf yesterday afternoon.
Explorer New Zealand captain Andy Light was still buzzing last night as he described the experience shared with about 40 tourists when they came across the pair between Waiheke Island and Cape Colville.
"They were jumping out of the water. The baby probably did about 30 breaches and came within 20m of the boat.
"They are the showoff of the whale world and to see them in the Hauraki Gulf is incredible. It's a very rare experience."
He has skippered tourist boats in the gulf for 11 years and had only seen humpback whales once, Light said.
Passengers on the boat were "amped", he said. "We had an American family and they said it was the highlight of anything they've ever done. Everyone was walking off with smiles."
Explore New Zealand can be contacted on 09 359 5987.