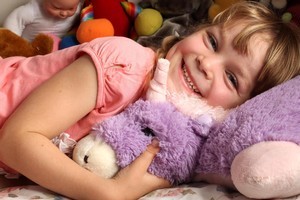 Well-loved Christmas toys are played with year in year out, while others are barely touched beyond Boxing Day. In a highly unscientific test, the Herald on Sunday asked six kids to try out some of the hottest toys from importer Planet Fun. Each family had the toy for more than two weeks. Here are their findings.
Alana Pooley, 6
Pillow Pet (RRP $29.99).
Part plush cushion, part cuddly toy, 15 million have been sold in the United States since 2003. Mum Megan Pooley said Alana loved the Pillow Pet the moment she set eyes on it, telling people: "When I want to go to bed when I'm anywhere, I just open it up and I lie down." She would undo the Pillow Pet's velcro tabs, put her head down and pretend to sleep. Pooley felt the price was "pretty good". Although the inner was not designed to be removed, the label said it was machine-washable.
Toby and Tristan Cosio, 6 and 4
Power Rangers Morphin DX Megazord (RRP $79.99) and Pokemon Attack Figures (RRP $19.99)
The Power Rangers figurine was a big hit with these two. "It's my favourite toy," said Toby. "It turns into a lion, a bear, dragon, turtle, robot and a scorpion." But he had few positive things to say about the Pokemon. Part of it was made of cardboard and was soon broken, and another part couldn't stand up on its own. Mum Sarah Cosio said it was "disappointing".
Alex and Cole Rogers, 8 and 6
LeapFrog LeapPad (RRP $249) and Razor Ultra Pro Lo Scooter (RRP $219)
Alex and Cole took to the LeapPad instantly, so much so that they had to use a timer to make sure each had a fair go. Alex said it was easy to work out what to do, from caring for her "pet" to her favourite part, taking photos and videos. But she needed mum and dad's computer to download games and "treats" for her pet, and needed their help accessing the book application. As for the scooter, Cole felt it was faster than other scooters. Alex said it was a "smooth" ride.
Eamon Rooney, 8
Moshi Monsters Moshling Collectable Figures 5-Pack (RRP $12.99)
"They're cool," Eamon said. "I can look them up on their internet site and help them make cupcakes." Eamon's mother, Renee Latta, said she wasn't impressed with more "lumps of plastic" as playthings but they appeared to fire Eamon's imagination as he made up stories about them.