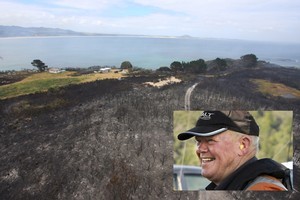 Colleagues have hailed the helicopter pilot who died trying to rescue people trapped by a raging scrub fire as a selfless man known for his "constant quest" to improve flight safety.
John "Prickles" de Ridder and Department of Conservation ranger William Macrae died when their helicopter crashed into the sea on Wednesday night.
They were on their way to help people trapped by a scrub fire on the Karikari Peninsula in Northland when their Squirrel ZK-IMB helicopter went down at about 10pm.
Mr de Ridder's colleagues at Salt Air this morning said they were mourning the loss of a "well loved and deeply respected" pilot.
Chief executive Grant Harnish said Mr de Ridder always tried to find safer ways of doing things.
"Prickles was a core member of our close-knit team. It is difficult to express just how much he will be missed and how valued he was, not only as a pilot but also as a friend, mentor and colleague.
"It's indicative of Prickles' nature that his final act was a selfless attempt to rescue people whose lives were in danger under extraordinary circumstances."
Mr Harnish said the team at Salt Air were rallying around Mr de Ridder's family.
"As one of our most experienced and capable chopper pilots, Prickles was a well-known, well-loved and deeply respected feature of the Northland fire emergency response landscape.
"We will do everything in our power to support Prickles' wife, Carol, and their family through all this and beyond."
Far North fire volunteer support officer Mike Fleet earlier paid tribute to Mr de Ridder.
He said he always had a "smile on his face and a story to tell" - and because he often wore a life jacket when flying over water, many had hoped that could have helped him survive the crash.
DoC staff said Mr Macrae, 54, had worked for the department for more than 15 years in Kaitaia and knew the area well.
Area manager John Maxwell said he was the top man for assessing rural fires and deciding what resources were needed to extinguish them.