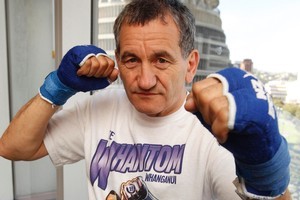 Maori Party vice-president Ken Mair is in hot demand at present.
He has been negotiating a confidence and supply agreement with National at Parliament in between training for his boxing bout tomorrow night with former Wanganui Mayor and talkback host Michael Laws.
The boxing bout at Wanganui, or Whanganui, as Mr Mair insists it should be called, is expected to raise up to $70,000 for the Christchurch earthquake appeal, and some local charities.
Dressed in his custom-made T-shirt with a Ken Mair "Whantom" superhero on it, he rushed back to Wellington yesterday afternoon from Wanganui for another round of meetings with party officials.
He and party president Pem Bird are the Maori Party's chief negotiators for an agreement which is expected to be taken to the party membership next week.
Prime Minister John Key was back in Wellington yesterday for talks with Act and United Future.
A support agreement, including a ministerial post for Act's John Banks, could be ready for signing on Sunday or Monday once the Act board has approved it.
Mr Banks said the talks had seen negotiation of "some things that are important to the Act Party values ... around choice, responsibility and private enterprise".
He said he would be interested in "a ministerial platform around investment, growth, jobs and success for the tradeable sector".
While Act had only a single MP in Parliament rather than the five it had in 2008, former Act parliamentary leader John Boscawen said its bargaining power was not substantially diminished.
"That MP makes sure the Government can pass its legislation."
Mr Banks said Act stood to make policy gains in excess of what might be expected for a party with just one MP.
United Future leader Peter Dunne also continued his discussions with National yesterday and said the talks had been "pretty positive".
"There are still some nuts and bolts to sort through, but it's making good progress."
- additional reporting Amelia Romanos