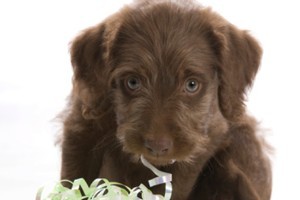 Firefighters had to come to the rescue of a puppy after it fell down a two metre hole in Te Puke.
The 10-week-old labradoodle had been exploring a rural home on Monday when it fell down a borehole.
The owner, who bought the dog as a present for her grandchild, heard it howling for help about 2.45pm and couldn't get it out. She then called firefighters.
A Te Puke volunteer fire service crew responded but getting the puppy out of the narrow hole had them stumped.
"We had to dig down beside the hole to gain access to the puppy," station officer Terry Thomas said.
Once the hole was dug, a firefighter was held by the legs and dipped head-first into the hole, returning to ground level with puppy in hand.
Mr Thomas said there was initially some concern the puppy might not have survived the fall, because it had stopped making any sound.
"It was pretty quiet, that's why we though she might not be alive any more but when we got her she was very much alive. She was pretty happy."
It is understood the puppy was not badly hurt.
Mr Thomas said the rescue took about half an hour.
To help ensure the gift remains a surprise for the child, the Bay of Plenty Times will not reveal where in Te Puke the incident occurred.

For more articles from this region, go to Bay of Plenty Times