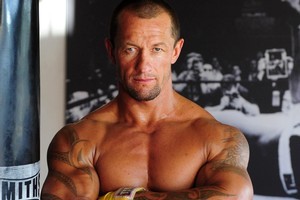 He's shed 8kg - and any ambition to return to New Zealand to live.
Carlos Spencer is thrilled to be back in Auckland to compete in Saturday's Fight for Life but the former All Black doubts he will ever return for good.
After his last test for the All Blacks in 2004, the first-five had stints playing for English clubs Northampton and Gloucester, and two seasons for the Lions in the then Super 14.
The 35-year-old has happily stayed on in Johannesburg with his wife Jodene and two young children, where he is the Lions assistant coach under former All Black coach John Mitchell.
Rugby has made the boy from Levin a man of the world.
"To be honest, I've got no ambition to come back to New Zealand. I do have regrets, obviously - family, friends. My kids don't get to see their grandparents that often.
"But to come back to New Zealand, for me now, I'd probably find it too small, to be honest ... The future for me will either be in South Africa, or if it's not there, it will be back in the UK."
The lifestyle in South Africa was appealing, said Spencer, who lives on a golf estate while a new family home is being built.
And as a keen hunter there is more than the odd wild bush pig on offer - although Spencer has drawn the line at antelope and the odd wildebeest.
"You can pretty much hunt whatever you want ..."
For Saturday's Woodstock Reserve Fight for Life, Spencer will cede a height advantage to his opponent, former Warrior Awen Guttenbeil, but said he was currently in some of the best shape of his life.
He says he has shed around 8kg training in South Africa's 36C heat and will be a fighting fit 95kg on Saturday.
"As you get older you start slowing down and getting tired quicker. I've definitely been fitter, but the way I look and the way I feel, I'm probably in the best shape I've been in for years."
Spencer said his days of pulling up to rugby team training on a Harley-Davidson were over.
"I haven't done that for years, actually, bro. The roads are a bit dangerous over in Joburg. There are a few crazy drivers, especially the taxi drivers."
Mitchell and Spencer have been lauded after guiding the revived Lions to overcame their poor Super 14 form and beat the Sharks in the Currie Cup final this year.
But Spencer said he held no great ambitions to become a head coach, and was currently thinking through what he would do once his three year contract with the Lions was up.
He is considering gaining some business experience in South Africa.
Fight For Life, Trust Stadium Arena, Waitakere, 8pm Saturday.