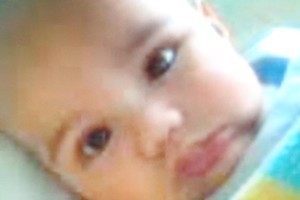 Cezar Taylor. Photo / supplied
A man heard his nephew "squeal'' before finding the six-month-old in a full-blown seizure, a court has heard.
James Hemana is accused of murdering his partner's baby Cezar Taylor by violently shaking the six-month-old on two occasions. Hemana has pleaded not guilty at the High Court at Auckland, but admitted to failing to provide the necessaries of life.
The Crown says Hemana prevented the baby's mother, Victoria Taylor, from taking Cezar to hospital.
The baby's uncle Russell Taylor lived with Hemana, Ms Taylor and Cezar at their home in Mangere in June and July last year.
He told the court that he rushed to baby Cezar's cot after hearing what he described as a "squeal''.
In court today Mr Taylor was silent for a period of time and wiped tears from his eyes as he recalled the incident that happened on July 23, last year.
"He was shaking, he wasn't responding ... It was scary as ... I came in, he was shaking, just staring straight ahead like he was gone.''
He said he "freaked out'' before going and waking the baby's parents.
Mr Taylor drove his sister and baby Cezar to the hospital before being questioned by police.
He said Hemana called him on his cellphone while he was at hospital.
"He had some worries about him and the fact the police were ... what was happening.''
Mr Taylor said when medical staff took Cezar's clothes off, he noticed bruises on the baby's legs for the first time.
Earlier, he told the court how Hemana would sing a "tune'' to baby Cezar at about the time the baby's eyes began flickering.
Mr Taylor told the court today that Hemana would sing "zombie, zombie boy ... like a tune''.
He said he also heard Hemana call baby Cezar "lazy, that he was always tired and flickered his eyes ... things like that.''
Mr Taylor said he noticed baby Cezar's eyes flickering and told Hemana and his sister, Ms Taylor.
He said he recalls them saying "that is was pretty weird''.
The Crown says baby Cezar was violently shaken on two occasions. The first was on or about July 6. Cezar was crying and woke Hemana on July 6. The Crown says Hemana responded by yelling and swearing at the baby.
Hemana is alleged to have grabbed the baby by the front of his stretch-and-grow pyjamas and violently shook him.
The Crown says about a week later Hemana picked Cezar up by one leg and again violently shook him before dropping him on the bed.
Hemana's lawyers have said their client admitted shaking Cezar but was not guilty of murder. They said Hemana did not know at the time that what he did was likely to kill the baby.
The trial continues.
TIME LINE
January 21: Baby Cezar is born to 20-year-old Victoria Taylor.
May 21: Ms Taylor, her younger sister and James Hemana move in to a house in Mangere
July 6: First shaking incident.
July 12: Feeding episode.
July 13: Second shaking incident
July 23: Baby Cezar admitted to hospital
July 28: Baby Cezar dies 10 minutes after life support is turned off. The same day, police locate and arrest Hemana.
- APNZ