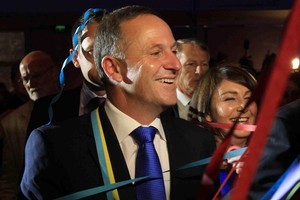 Prime Minister John Key celebrates with supporters on election night. Photo / Greg Bowker
So the electorate did not want the National Party to govern alone. Other than that, which signifies its deep resistance to unbridled power, it has handed Prime Minister John Key most of what he wanted - and his opponents on the left nothing much at all.
The election result was encouraging for a party seeking a second term leading the Government. By increasing its share of the vote, and saving enough of Act and United Future to get it over the line, National has its majority. With the Maori Party's three votes as ballast, it appears more than secure, unless special votes alter the seat allocation to National's detriment.
The campaign carelessness that prompted the revival of New Zealand First to a caucus of eight MPs may not actually matter. Because of weakness to its left, where Labour dissolved to just 27 per cent of the vote and the Greens could barely surge past the 10 per cent barrier as threatened for so long, NZ First is not holding the balance of power, or much power at all.
On election night the National leader spoke triumphantly, and with some cause, when comparing National's result with 2008. Yet the 48 per cent it gained on Saturday is well down on its opinion poll results in the mid-50s in the intervening years. When it came to making that orange tick on the voting paper, people marked National down.
On the earliest indications, they also resisted urgings from Mr Key and others to opt for an alternative electoral system to MMP. While this count will not be finalised for weeks, MMP leads with 53 versus 42 for change. Should that result hold, MMP will be reviewed and, hopefully, shorn of its least liked elements. Its proportionality will continue to keep in proportion the powers of the leading party.
This week's negotiations on governing arrangements should be straightforward. Act's John Banks and United Future's Peter Dunne come to the table beholden to National and bearing solitary votes. The Maori Party will again be engaged by Mr Key to ensure votes on policies across the spectrum and build on progress made in the first term. Maori MPs will want some concession on the part-sales of state assets, which they have opposed, and National will be willing to contrive domestic and iwi ownership arrangements to confirm its signature policy.
National has received its mandate to sell shares in the nominated public assets. Labour made stopping asset sales its mantra and received just over one vote in every four. National put its unpopular plan to the electorate and again received the keys to the ministerial BMW fleet.
National faces a daunting challenge to make its revenue and spending numbers meet the promises of its manifesto: reducing and eliminating this year's record budget deficit of $18 billion in just over three years. Too much reliance seems to rest on the economic uptick of the Christchurch rebuild; too little on reducing the universal Government social spending programmes.
As the campaign rhetoric fades, the facts beneath are stark. Economic growth is damp, the unemployment rate is moderately high but stubborn and the outlook among consumers and businesses for the New Year subdued. Moreover, the high level of private debt owed to foreigners continues to mark New Zealand as an economy which could be troubled by contagion from sick markets in Europe. If demand drops in key export markets as a result, our income is also impacted.
In 2008, Mr Key struck the global financial crisis. He returns to international risks which his would-be electoral partner from Act, Don Brash, the former Reserve Bank governor, rates as potentially the worst of his lifetime.
National has been given the opportunity to deliver the "strong and stable government" it so often cited in the campaign. The country requires nothing less.