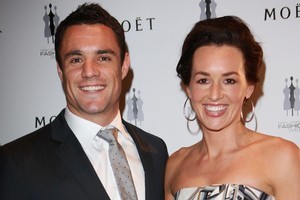 Those close to rugby superstar Dan Carter are staying silent on speculation he has signed the magazine deal of the year for his wedding to Honor Dillon.
Industry talk is that the world's greatest No 10 has negotiated a deal worth around $50,000 with the Australian Women's Weekly.
But 62 Models director Sara Tetro, who has acted for the All Black superstar, said the couple just wanted to relax and enjoy their wedding day.
"It's been a year of unbelievable highs and some gut-wrenching lows," Tetro said.
"They just want to celebrate their special day in the company of those most important to them.
"They have managed to keep their private life out of the spotlight very successfully. They are very private people.
"There is a big debate about what's public and what's private going on at the moment, and I think it's tremendous that they are able to continue to hold back a part of their lives just for themselves."
Paul Dykzeul, chief executive of ACP Media, owner of the Australian Women's Weekly, said he knew nothing about the deal.
"I can't tell you anything because I don't know," Dykzeul said. "Who told you? That's news to me."
Magazine deals often include security, venue hire, photography and makeup.
A women's magazine source said renewed competition had driven prices higher this year.
"The landscape has changed so much - I would expect Dan would want $50,000."
Neither Dan's father Neville nor Honor's mother Maling wanted to speak about it.
Carter's teammates and business partners Richie McCaw and Ali Williams - who both underwent surgery for rugby injuries this week - were expected to attend.
New Idea editor Louise Wright said all the women's magazines would have wanted the story.