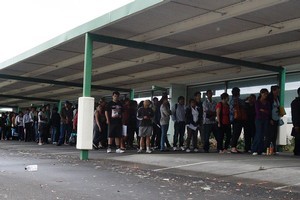 Highly educated, fluent English-speaking Indian migrants struggle to find employment in New Zealand because of employer discrimination, a new report has found.
The study by Massey and Waikato Universities, entitled Namaste New Zealand: Indian Employers and Employees in Auckland, found "widespread presence of discrimination and ... a general unwillingness to employ immigrants who don't as readily blend into New Zealand's dominant Pakeha/European culture".
The report said Indian migrants "arrive in New Zealand as well-educated and skilled newcomers", but unlike immigrants from Britain and South Africa, "their employment outcomes are not that rosy".
More than 60 per cent of those interviewed had an academic qualification of a bachelor's degree or higher, but less than half said their present jobs made good use of their qualification.
Lead author sociologist Paul Spoonley said it was "disappointing" to see Indian migrants "struggling to gain employment or experiencing downward mobility in terms of employment and income".
"They try very hard and just want to succeed, but they're not getting that first opportunity to prove themselves," Professor Spoonley said.
"We've seen the same thing happen to the Chinese and Koreans, but Indians are quite different because they speak English."
Indian migrants numbered 104,600, the second-largest migrant group behind the British, the report said.
Many experienced "considerable downward occupational mobility", with recognised credentials but no suitable job opportunities and few business networks.
"When looking for a job, my wife was told only white people will be given more of a chance," one participant said. "When I started in the real estate business, [someone] I knew wanted to sell a house. The Kiwi woman wrinkled her nose and said, 'I wouldn't list with you'. This was very insulting to me," another said.
Professor Spoonley said there was an "ongoing resistance" from local employers to hire immigrants.
"To be honest, the lack of Kiwi experience excuse which employers use is not a very convincing one."
Three-quarters of participants had suffered workplace discrimination; a quarter of employers and a third of employees reported "some discrimination" against Indians in the media.
About 40 per cent also said they'd experienced bigotry in the streets. But the report also found "persistence and resilience" in their willingness to stay, despite the barriers.
The desire to live in a country that was free from corruption, less stressful and offered their children a chance to grow up in a clean and green environment outweighed their settlement difficulties, participants said.
"My lifestyle is better... cars were a luxury in India, in New Zealand cars are affordable. Leisure activities are affordable," said one respondent.