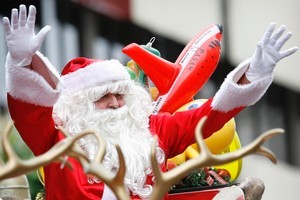 Santa Claus is coming to town this weekend and thousands of people are expected to turn out to welcome him.
The annual Farmers Parade, in association with the Herald, is now in its 78th year.
This year's parade is on Sunday and promises a great line-up of fun and entertainment, parade general manager Pam Glaser said.
"We have some awesome inflatable characters coming from the United States like Bob the Builder, who is helium-filled and just floats down the road.
"We also have Mr Potato Head Fireman, who will be very popular with the children, and a 10m tall brachiosaurus dinosaur."
Others to look out for are the Christmas Kiwi, snowman, Santa's reindeer and locally made Disney characters Donald Duck and Mickey Mouse.
"We haven't had any Disney characters in the parade for a long time, so we're really excited about that," Mrs Glaser said.
There are several new floats this year, including the Christmas Elf float - that will lead the parade - which will have dozens of elves and fairies dancing in a fantasy Christmas setting. Others are the I'm a Rock Lobster and the Latin Fiesta float, the latter with a live band on board.
Santa's Party at Aotea Square will be held immediately after the parade.
There will be free rides, a Christmas magician, characters from Happy Feet 2 and, of course, Santa Claus himself.
Those heading into town are encouraged to travel early or make use of the special ferry, bus and train services on the day.
Trains will be running special rides from Helensville, stopping at Waimauku, Huapai and all stations between Waitakere and Britomart. A $23 family pass is available.
A number of inner-city roads will be closed from noon to 4pm. Free parking will be available between noon and 6pm in Auckland Transport Park Right carparks in Karangahape Rd, Victoria St and downtown.
The blustery winds forecast in the next few days are expected to die down on Sunday, with MetService predicting dry weather with little wind on the big day. A high of 21 degrees is expected.
Mrs Glaser said: "Don't miss out. It's awesome and festive entertainment for the whole family. Come and soak it up, make a day of it."
NEED TO KNOW
* Parade starts at 2pm in Sunday and ends about 3.30pm.
* Parade will start at the corner of Cook St and Mayoral Drive and go down Queen St, into Customs St West, up Albert St to Wellesley St.
* Inner-city roads will be closed from noon to 4pm.
* Free parking available in the downtown, K Rd and Victoria St Park Right carparks from noon to 6pm.
* Special ferry, bus and train services running. Trains will be selling special family passes.
* Don't forget sunblock, hats and water bottles.
ON THE WEB
www.santaparade.co.nz