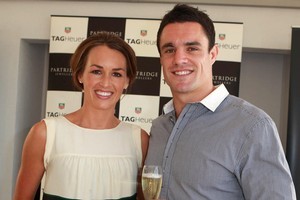 All Black Dan Carter marked his final days of singledom on Saturday night with a big evening of partying during his stag do in Queenstown - less than a month before his wedding to long-time girlfriend Honor Dillon.
The high-profile couple are due to tie the knot early next month at a secret location.
Carter and a group of friends marked his last days as a single man before the upcoming nuptials by spending the evening bar-hopping - and were still out at 8am, said one local.
The group are understood to have spent a large part of the night at Barmuda bar before they were sighted at Bar Up and later headed to Mini Bar where Carter is reported to have tested out his DJ-ing in front of a large crowd.
They then moved on to Bardeaux bar in the early hours of yesterday morning, where manager Jeremy Stevens served the All Black a vodka, lime and water.
Carter and about half a dozen friends arrived around 1am in good spirits, he said.
"They came in for a few drinks at the end of the night. Dan Carter was there - it was nice to see them."
Mr Stevens said it was a very busy night, with a number of staff from The Hobbit, filming in the area, also in the bar.
The manager of Barmuda refused to confirm further details of Carter's night on the town but said "Queenstown is a wonderful city and I'm sure he had a good time last night".
The resort town has significance for the couple, who got engaged there in October last year.
Carter lured Dillon to Queenstown where he took her on a helicopter ride and asked her to marry him. He had also organised for both sets of parents to fly to the city so they could all go out for a meal together.
Dillon, 29, a former Black Sticks' striker, underwear model and Carter's girlfriend of nine years accepted his proposal, breaking the hearts of female fans around the country.
Carter and Dillon met through university friends in 2000 and started dating a couple of years later.
The star first-five, who has been voted New Zealand's sexiest man in a number of polls, tore a groin tendon during the final training session before the All Blacks' pool match against Canada in the Rugby World Cup 2011, forcing him to miss the rest of the tournament.
- APNZ