They put their lives at risk, suffer pain and inconvenience so that they can donate part of their bodies to help save or improve the lives of others. Now, with New Zealand lagging behind in organ donations, Kiwis are being urged to sign up.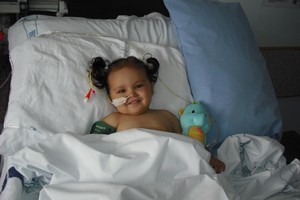 If Lisa Hardegger had any qualms about having a third of her liver cut out to save the life of a child, she had only to look at 2-year-old Jaya. The daughter of her friends Jono and Bex Robinson was dying.
"She became very ill," says Hardegger.
"She used to just sit on the couch and mooch, watching TV or cuddling her mum. Pretty much I knew she would definitely die without a transplant."
Jaya had been born with a liver disorder that surgery failed to cure. Knowing she shared a compatible blood group with Jaya, Taranaki bank manager Hardegger, after discussions with her husband, offered to become a donor. In doing so, she almost certainly saved Jaya's life.
Hardegger is one of a relatively small number of New Zealanders who have, literally, given a part of themselves to save or improve the life of another person. Whether it involves donating a kidney, part of a liver, bone marrow, blood or eggs, these "donor angels" can be the only difference between life and death for someone whose organs have failed.
The same is true of people who have made the decision to give their organs after their own death, donating their heart, lungs, pancreas, liver, skin or eyes, offering a new lease on life to multiple strangers languishing on transplant waiting lists.
But, despite these selfless acts, the truth is that New Zealand is lagging behind many other countries in our level of organ donations. And nobody seems to know quite what to do about it.
Our highest profile recipient of a donated organ is, of course, former All Black Jonah Lomu. In 2004, after the giant rugby player was laid low by kidney disease, he received a kidney donated by a friend that appeared to have restored his health. Now though, he is facing further problems.
Lomu's wife Nadene has stepped up to be tested as a possible donor.
"For the moment we are not in need of Jonah having another kidney transplant," Nadene told the Herald On Sunday.
"As for me taking the test, well, it's in progress. If ever needed, I would give my kidney in a heartbeat. When you love someone so much, you just do what you need to do, all you can do, really."
Nadene says there is an "extreme" shortage of organ donors, but she feels it can't be blamed on an uncaring public.
"Waiting lists are long, but I don't think it's because people don't want to give. I think, it's more because people don't like the thought, when filling in forms, of being cut open and pieces of their body taken from them to put in a stranger.
"That's the reality of it ... well, that's the way I see it. Then they don't really put further thought into it until something comes up. I strongly encourage people to change their driver's licence from an N to a Y, because you never know when the organ of another person could be the very organ that makes all the difference to someone you love dearly."
Organ Donation NZ says that more than 400 New Zealanders are waiting for an organ transplant, around 350 of these need kidneys.
"There are more people waiting for organs than there are organs available for transplantation," the group points out. "Some people will wait a number of months for a transplant while others will have to wait a number of years for an organ to become available.
Sadly, some of these people will die waiting. People waiting for a heart, lungs or liver will die without a successful transplant, while those waiting for a kidney transplant lead lives restricted by long-term dialysis treatment."
The Organ Donation NZ website includes a table comparing donor levels here with other countries around the world. New Zealand is second from bottom with 8.7 donors per million of population. Spain is at the top with 32. The UK has 16.4 and Australia 13.5. In other countries it is possible for people to become an "altruistic" live organ donor for a stranger, something which is not common here.
Margaret Johnston, senior liver transplant co-ordinator at Auckland Hospital explains: "The motivation for live liver donors is to save the life of a loved one. Our policy here at the NZ Liver Transplant Unit is that the live liver donor must have an emotional attachment to the recipient. This is because it is such a huge operation with significant risks that we do not believe altruistic donation should be considered."
Andy Tookey knows what it feels like to see a loved one declining because of a failing organ. His daughter Katie was diagnosed with the same disorder as Jaya Robinson when she was only a few weeks old. He was told she'd need a liver transplant.
Desperate to help his daughter he started researching the possibilities of finding a donor and opened a "can of worms" that was to set him on the campaign path for changes to organ donation laws. First he discovered New Zealand's very low rate of donations and what he sees as numerous flaws in the current system that prevent organs from reaching people on waiting lists.
He says the "opt in" system where people register as donors on their driver's licences doesn't work. More than half of people tick "No" and even those who tick "Yes" can have their wishes overruled by their families.
Lack of education puts many people off.
"There is an absolute cure that is being buried or cremated hundreds of times a year," argues Tookey.
He says he offered to donate part of his own liver to Katie but was told by doctors it was too dangerous.
"They didn't want to take part of my liver because there was a one in 200 chance that I could die on the operating table. But I am prepared to take those odds. That's when I went a bit ballistic."
As it turned out the "stop gap" surgery Katie underwent was so successful that she hasn't needed a transplant so far. But Tookey has spent the past decade campaigning for change, setting up the organisation GiveLife NZ and even taking the issue to Parliament several times.
His latest proposal is for a funeral grant for people who are signed up as donors. "But still nothing has happened."
Melanie Selby is another person whose personal experience, like Tookey, drew her into the world of organ donation, although in far more tragic circumstances.
Selby was on her OE in Scotland when she received the kind of phone call we all dread. Her 22-year-old brother Jared and his partner Johanna had been knocked over by a car while walking in Hamilton. By the time Selby arrived in New Zealand two days later, Jared was already brain dead in Waikato Hospital. He was registered on his driver's licence as a donor and his parents had given their consent for his organs to be used.
"I was there to say my goodbyes," says Selby. She doesn't recall there being much discussion about organ donations after the family was approached by doctors at the hospital. "The biggest deal was that my brother was dead," she says.
"Organ donation wasn't an easy decision, but that is what was happening. Those were his wishes."
A few weeks later, as Selby prepared to leave for the airport to head back to Scotland, a donor co-ordinator called to ask if the family wanted to know the result of Jared's donations.
The recipient of Jared's heart had that morning walked to the top of Auckland's One Tree Hill.
"It knocked me for six," admits Selby.
"It was very bitter/sweet. I hadn't thought about the recipients because, I guess, it was too difficult. But it was amazing. It was definitely the right choice."
Her brother's liver, kidneys and eyes have also been used. Six people benefited from his donation.
"Jared would be really proud and pleased and for that reason I am pleased about it."
A couple of years ago Selby got a job as a communications adviser with Organ Donation NZ. She sees it as being a direct result of the experience she went through. "It's definitely helped me in this role. I have a definite understanding of where people are coming from."
"Donor angels" come in all guises. For couples unable to conceive a child, for instance, the gift of human eggs can be as significant as any organ. One donor, who spoke on condition of anonymity, described how she had been fascinated by the idea of helping someone conceive since her early teens.
Last year she achieved her ambition by donating eggs to an Auckland couple who had tried unsuccessfully for a decade to have a baby. It was a fairly demanding process, involving various health tests, counselling, ultrasound and hormone treatments, some self-administered with injections in her abdomen.
"I put my life on hold for10months," she says. "But they were an awesome couple. I was happy to help." The process culminated in the harvesting of her eggs with the recipient alongside her, holding her hand. "That kind of completed the circle. They harvested eight eggs. She now has a daughter."
Coincidentally, the egg donor then became pregnant and now has her own daughter. She says the experience of donating was a positive one and she would consider doing it again, although now she has a child and a partner to consider, probably not for a stranger.
Hardegger has no doubts about giving part of her liver to little Jaya, despite the risks to her own health.
"There are definitely risks, and some can be quite serious. You could put your own liver at risk. But when I started meeting the surgeons I felt reasonably confident. I was keen for it to happen quickly because Jaya was getting sicker. It was painful, there's no two ways about it. But it was definitely manageable with the pain relief. And it's quite amazing how quickly your body recovers. She says watching Jaya's health improve has been part of her own healing process.
"She throws herself off the couch now and wants to get outside and ride her bike. She's such a terrific kid. They say the recipient can take on some of the donor's traits, so I get blamed for some of the tantrums that go on," she laughs. "But I do think there is a bond between us now."
Nadene Lomu lives day to day, caring for her husband and their two young sons, Dhyreille and Brayley, hoping that Jonah's kidney will recover, but also in the knowledge that one day he may need another "donor angel".
"We have had a lot of kindness offered to us with assisting my husband's kidney problem, and I would like to say that we are very grateful to everyone for their support and kind words."
She is prepared to give anything she can to help the man she loves, and asks others to consider what they can do, either in life or death, to save the lives of the many people whose bodies have let them down.
"If it came down to it, and the loss of my life meant a number of my organs were able to help bring life, happiness and hope to a number of people in any way, then that's a joy in itself."
Second chance at life
Auckland student Helena Lau didn't know what was happening to her when she suddenly became violently ill at school three years ago. Even more frighteningly, neither did the doctors at three hospitals.
"I was taking my mock exams at Rutherford College," says Lau, now a 19-year-old graphic design student at AUT. "I felt so ill. I was eating a packet of chips and it was really hurting me. I started throwing up, then I collapsed and nearly passed out. It felt like someone was stabbing me."
Her mum took her to Waitakere Hospital. She was later transferred to North Shore, then Auckland City Hospital. The doctors first suspected food poisoning, then gall stones, but as her condition deteriorated rapidly it became clear her liver was failing.
She lost lucidity and can't remember anything until waking up some days later strapped to a bed in a ward. It was then she was told the staggering news that she had a new liver, which had been removed from the recently deceased body of a 40-yearold Australian man and flown to Auckland.
Still intubated and unable to speak, all she could do was write the words "Are you joking?"
Amazingly, Lau's father suffered kidney failure at the same time she was taken ill. They were even on the same ward at one stage. Sadly, while she was back playing volleyball and netball within months of her emergency operation, her father has since died.
Although the doctors still don't know exactly what caused her near fatal illness, Lau is looking to the future and remains deeply grateful for the liver donated by a stranger.
"It's a part of me now," she says. "It's definitely a gift and I am really privileged to have received it. That's why I feel I should live my life being kind."
She urges people to get registered as an organ donor on their driver's licences.
"I am a donor, and most of my friends are donors now. It's a difficult thing to think about, but why not? You are not going to use your body [after death]. But people also need to consult their families."
And if she needs any reminder about the importance of organ donors she has only to look at her old liver, preserved in formalin, which is still in a container in her bedroom.
"I really need to bury it," she laughs.