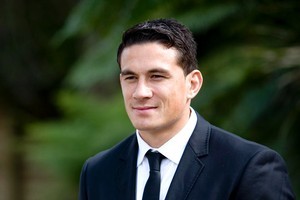 Good news for Sonny Bill Williams' legion of female fans - the ripped rugby adonis is back on the market.
Williams confirmed he was single after being quizzed by a young admirer on Twitter.
"No I'm single" said Williams on Friday night after being asked about his relationship status.
Within minutes of making the post, The World Cup-winning sex symbol was swamped with offers of marriage, and less permanent liaisons.
A women's magazine claimed the All Blacks centre was dating touch rugby player Aleisha Berryman in September.
"Not everything that's written in mags is true my friend," he later added.
One woman said Williams "had just made many single girls' night tonight".
Williams has signed for the Waikato Chiefs Super 15 side in 2012, who enticed the 108kg, 1.91m player to Hamilton.
The Auckland Blues lost out in a long battle for his signature.
The 26-year-old had been linked with a move abroad and even a switch back to rugby league but opted to stay in New Zealand to continue his All Black career.
Williams' one-year contract with the New Zealand Rugby Union allows him to take part in several professional boxing matches.