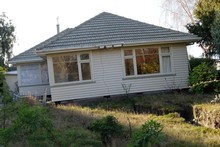 More than 400 houses have been labeled uninhabitable as a result of damage sustained in the February 22 Christchurch earthquake.
Canterbury Earthquake Recovery Minister Gerry Brownlee today announced the fate of 758 orange zoned properties in greater Christchurch.
In Brooklands, north of Christchurch, 417 properties were zoned red.
Owners of insured properties were set to receive a Government offer to buy their homes.
Mr Brownlee said Brooklands land was too severely damaged for residents to remain in their homes during remediation work.
He said the entire suburb would effectively have to be rebuilt from scratch.
"The reality is that all houses would have had to be removed for the land to be fixed, regardless of their damage.
"While this decision will be distressing for some, as with all red zone decisions, I'm confident we've made the right call for the residents of Brooklands," he said.
Another 341 homeowners were given the go ahead to start rebuilding their properties in today's announcement.
It brings the total of remaining properties without any assessment on whether they will be rebuilt or abandoned to 908.
About 6500 homes in the greater Christchurch area are now in the red zone, while 180,000 properties have been cleared for rebuilding.
Mr Brownlee said moving the remaining orange zone properties into the red or green zone would be the Canterbury Earthquake Recovery Authority's "highest priority" in the coming weeks.
"As we progress with geotechnical investigations into the region's hardest hit areas, the decisions become more and more difficult to make.
"We want to make sure we make the best decision for the owners of the properties that remain orange or white and I thank them for their patience as we go about this important work."
- HERALD ONLINE