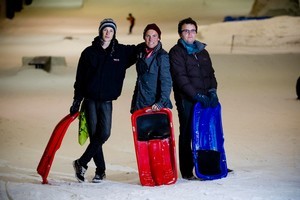 New Zealand's top freeskier Jossi Wells, the newest CanTeen ambassador, spent yesterday on the slopes with young cancer sufferers, including Matteo Stella, and Jesse Greenslade.
Here on a flying visit between international competitions, Wells showed off his skills at Snow Planet, north of Auckland.
Wells, from Wanaka, told the Herald he was inspired to join CanTeen when a friend he skis with was diagnosed with bone cancer.
"It hit me that a lot of people, me included, have always thought that cancer was something they would never get ... and so when someone that I knew was diagnosed, it hit me pretty hard and I realised that it can happen to anybody."
CanTeen spokeswoman Kimberley Waters said they were delighted to have Wells on board.
"I think he'll inspire some of our young people, and I'm sure in turn they'll inspire him and his career."
Wells was last year named the Association of Freeskiing Professionals World Champion and last week won the London Freeze Big Air competition.